1.) Name, class, race & server (transfers welcome)
Underpanties, Blood DK human on Korgath
2.) Quick rundown of your build, its primary focus, a link to your Armory profile, and an explanation of anything that needs clarification (alternate gear/spec, etc). Please logout in your PVE gear.
Going to run it blood spec, tank or DPS up to you guys,
3.)Why do you want to join Immortality?
Simply looking into involving myself in a guild.
4.) Discuss your pre-wrath raiding experience. Be specific. Please don't simply post that you "cleared everything" -- this is a useless statement that tells me nothing.
Kara,Gruul,Mag lair,TK CFR ZA sun well Hijyal M and BT cleared, ( thats for BC ) and 100% content cleared expect 25m heroic anub and twins yet to kill ( seens twins healed it, and topped meters until wipe 11k HPS holy priest )
5.) Discuss your gear and talents, and how they enable you to maximize your raiding effectiveness. What steered you to make your choices (spreadsheet/WWS analysis, forum theorycraft, etc)? Explain any ways in which you are still working on improving your character.
Yet to be seen.
6.) Tell us a bit about yourself. How old are you? What is your gender? What do you do (work/school)? What is your personality like? How long have you played WoW? Add anything else you feel is pertinent.
Names' Marc im 19,male, Work all day up to 4PM, tues and weds i work on evenings 3h30 to 6h30 server time, but thats to help some friends, 5 mins away from home so im home at 6h40 ish~
7.) skipped it i think i answered in the last question
8.) List any references who could vouch for you. These can be from any guild/server, not necessarily Insurrection.
none
.) Out-of-game contact information (AIM or Yahoo IM preferred).
rawbloody@gmail.com
10.) CPU, RAM, Video Card & Internet connection type.
Quad core intel 2.8 GHZ
Asus p5k motherboard
graphic card, i can never remember, but i run WoW on ultra graphics with 2 screens at a time,
internet, 1mb unlimited DL ( but lately ive had some latency issues, gotta call company)
11.) Provide a screen shot of your User Interface in a 25-man raid setting (a combat situation in Alterac Valley is fine if you don't have one on hand).
will link in a second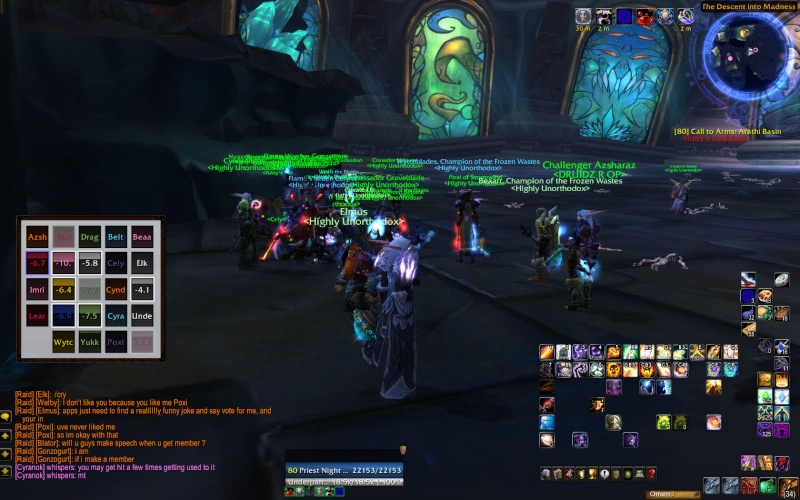 This is my priest SS right before general pull